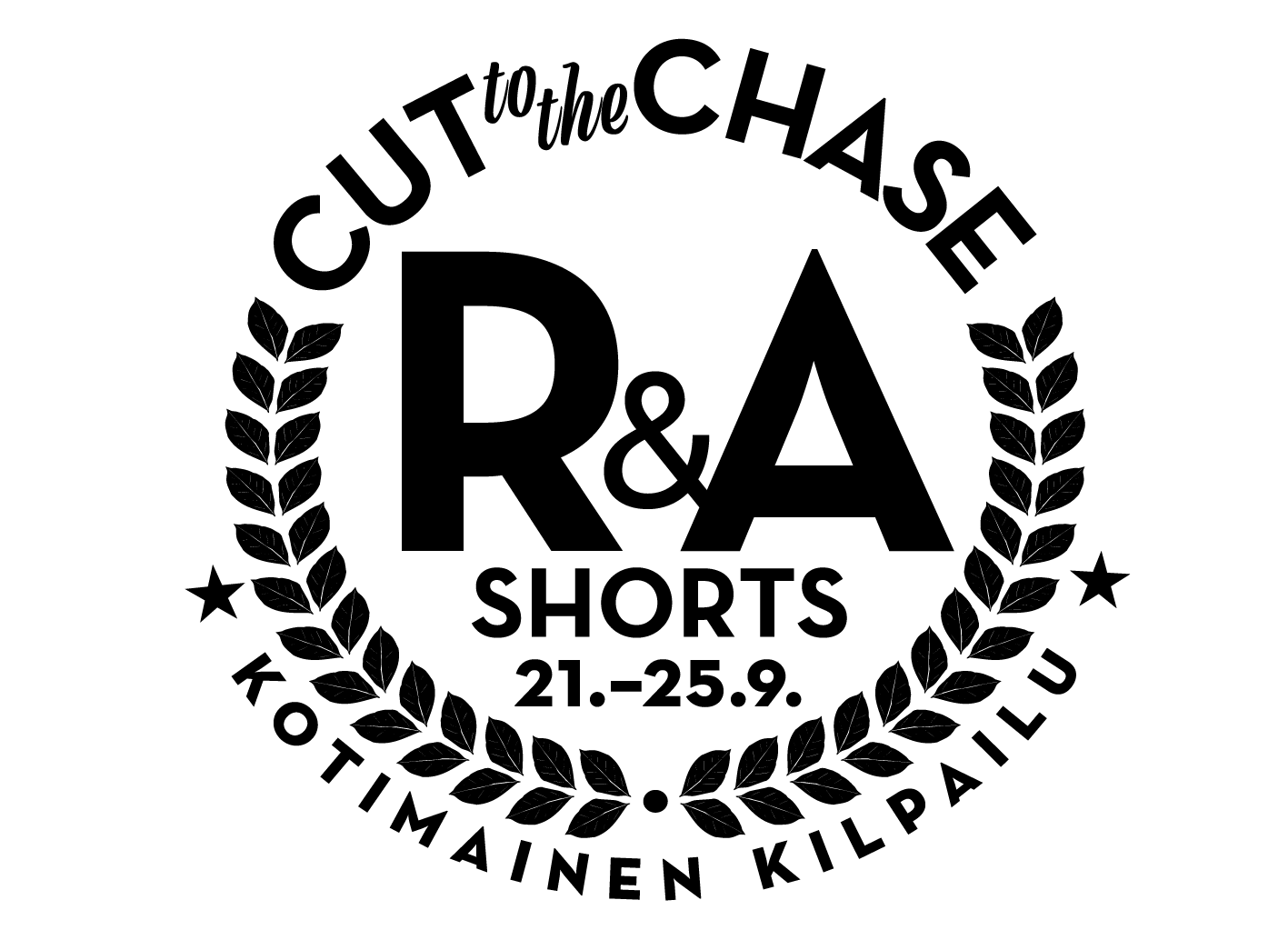 CUT TO THE CHASE – R&A SHORTS: KOTIMAINEN LYHYTELOKUVAKILPAILU 2022
(hakuaika 1.3.–31.5.2022)
HUOM: HIFF – Rakkautta & Anarkiaa -festivaalin kilpailu kotimaisille lyhytelokuville 2022 on nyt suljettu!
Cut to the Chase – R&A Shorts -lyhytelokuvaohjelmiston kilpailuun voi hakea korkeintaan 30-minuuttisella fiktio-, dokumentti- tai animaatioelokuvalla (musiikkivideot eivät ole hakukelpoisia). Elokuvan tuotanto- tai osatuotantomaan tulee olla Suomi. Kilpasarjan elokuvat valitsee R&A Ministeriön jäsenistä koostuva esiraati ja voittajat festivaalin nimeämä jury. Kaikki kilpailuun valitut elokuvat esitetään syksyn 2022 R&A Shorts -lyhytelokuvaohjelmistossa.
Paras kotimainen lyhytelokuva palkitaan R&A Shorts -pääpalkinnolla, joka on rahapalkinto. Suomen elokuvasäätiön rahoittama Uusi aalto -palkinto on kohdistettu elokuvantekijän tulevan projektin tuotantoon. Se jaetaan uudelle tekijälupaukselle, jonka lyhytelokuva antaa suuntaa suomalaisen elokuvan valoisalle huomiselle. Palkinnon tarkoitus on edistää lyhytelokuvan kautta uuden tekijälupauksen uraa ammattilaisena elokuvantekijänä.
Yhteistyössä AMPI:n kanssa vuonna 2021 perustettu Moving People and Images -palkinto myönnetään elokuvantekijälle, jonka työ huomioi inklusiivisuuden ja monimuotoisuuden. AVEK:in, YLE:n ja Suomen elokuvasäätiön vuorotellen sponsoroima tuhannen euron palkintosumma on tarkoitettu tekijän seuraavan työn tukemiseen.
Paras opiskelijaelokuva palkitaan akkreditaatiolla vuoden 2023 Rakkautta & Anarkiaa -festivaalille sekä Finnish Film Affair -ammattilaistapahtumaan. Opiskelijaelokuvat kilpailevat myös muista palkinnoista. Lisäksi kaikki kotimaisen lyhytelokuvakilpailun elokuvat kilpailevat yleisöpalkinnosta, joka on elokuvan ohjaajalle myönnettävä tuotepalkinto.
Lue lisää  täältä!
Haku vuoden 2022 kilpailuun on auki 31.5. asti.


Lisätietoa kilpailusta:
Anni Kekki
Tuottaja / Lyhytelokuvaohjelmisto
anni (at) hiff.fi
Tel: +358 44 086 4500
Vuodesta 2018 asti järjestetty R&A Shorts kotimainen kilpailu esittelee laaja-alaisesti suomalaisen lyhytelokuvan korkeaa tasoa ammattilais- ja opiskelijatöiden kautta. Kilpailun järjestää HIFF – Rakkautta & Anarkiaa ry ja valitut lyhytelokuvat esitetään Rakkautta & Anarkiaa -festivaalin Cut to the Chase – R&A Shorts -lyhytelokuvaohjelmistossa 21.–25.9.2022.