Game of Thrones -tähti Pilou Asbæk palkittiin Helsingissä Nordic Flair -tunnustuspalkinnolla. Palkinto on Rakkautta & Anarkiaa -festivaalin ja sen ammattilaistapahtuma Finnish Film Affairin myöntämä, ja se jaettiin tänä vuonna ensimmäistä kertaa.
Tanskalainen Asbæk kutsuttiin Helsinkiin R&A:n kunniavieraaksi. Palkinnonjako- ja yleisötilaisuus järjestettiin yhteistyössä Ylen kanssa kulttuuritalo Gloriassa torstaina 21.9.
Ennen palkinnon vastaanottamista Asbæk kertoi yleisötilaisuudessa työstään näyttelijänä. Haastattelijana toimi kirjailija ja Ylen toimittaja JP Pulkkinen.
Jack Nicholson esikuvana
Asbæk puhui tekemistään tv-sarjoista Vallan linnakkeesta ja Game of Thronesista sekä elokuvista R, A Hijacking ja The Guardian Angel, joista näytettiin pätkiä yleisölle. Asbæk oli tilaisuudessa hyvin rento, ja hän viihdytti yleisöä kertomalla vitsejä ja hauskoja tarinoita työstään. Hän kehui myös suomalaisia ihmisiä, ja kertoi tanskalaisten ja suomalaisten olevan hyvin samankaltaisia.
Asbæk kertoi ihailevansa näyttelijä Jack Nicholsonia ja kuvailee tätä ikoniseksi näyttelijäksi, jota nuorempi sukupolvi ihailee. Hänen mukaansa Euron Greyjoyn hahmossa on nähtävissä Nicholsonia.
"Hänen hymynsä ja silmänsä – siihen pyrin roolihahmoni kanssa Game of Thronesissa", hän sanoi.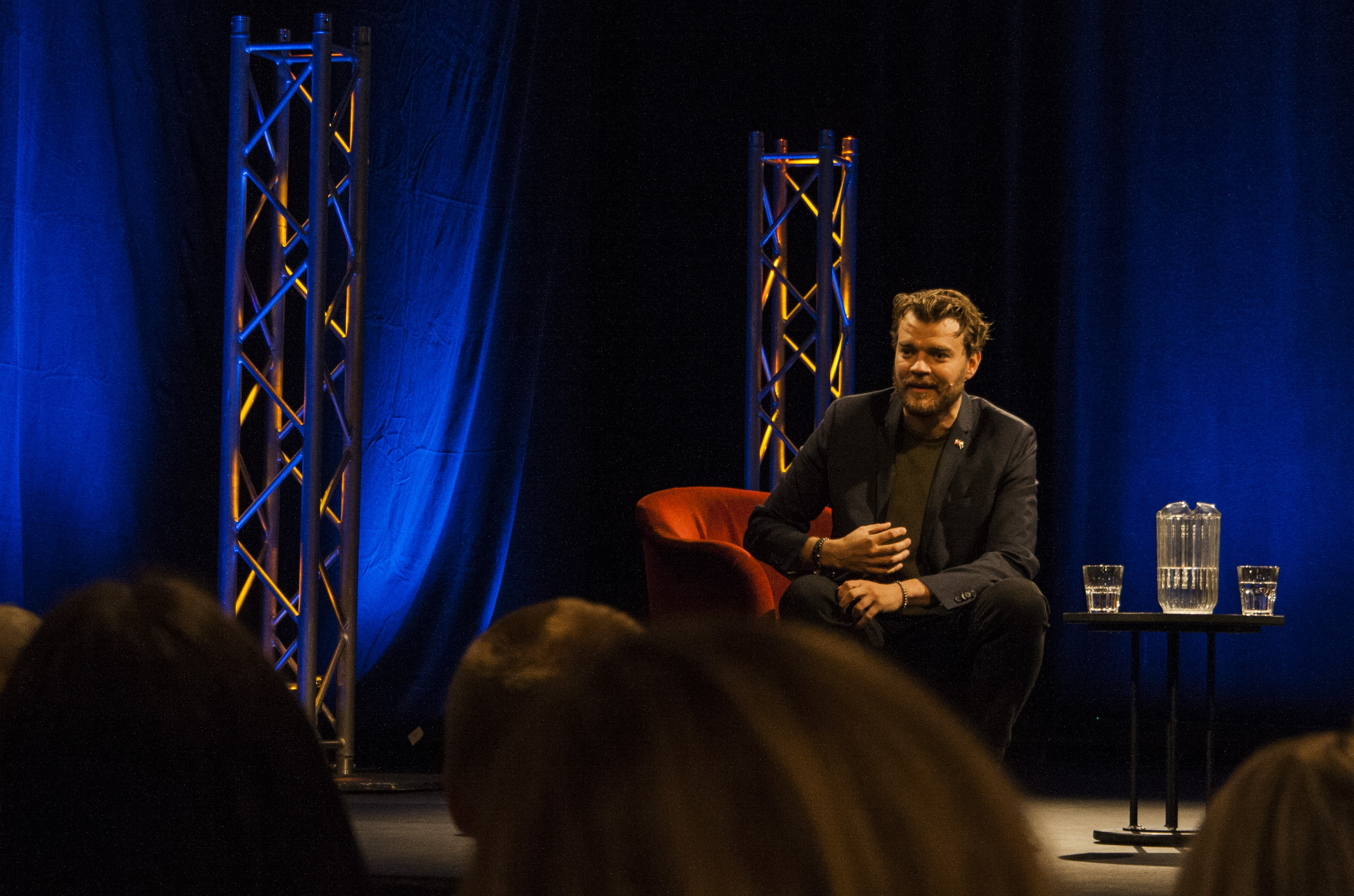 Asbæk myönsi, että kokenuttakin näyttelijää jännittää.
"Olen aina ollut suuri Game of Thrones -fani. Olen nähnyt jokaisen minuutin ja jokaisen sekunnin sarjasta, ja yhtäkkiä olen osa sitä" hän kertoi, ja sanoi olleensa erittäin nöyränä, kauhuissaan ja hermostunut.
"Minulla oli vain kaksi kohtausta kutoskaudella, enkä uskaltanut tehdä mitään muuta kuin sen mitä minulta haluttiin", Asbæk paljasti. Hän kertoi tajunneensa myöhemmin, että hahmo täytyy ottaa rohkeasti haltuun ja omistaa se. Hän halusi valmistautua seitsemänteen kauteen paremmin, olla rock-tähti ja pukeutua nahkaan.
Asbækin kuuluisa kohtaus Game of Thronesissa, jossa hänen hahmonsa Euron piikittelee Jamie Lannisterille kahdesta terveestä kädestä, aiottiin jättää pois sarjasta.
"Ensimmäistä kertaa päätin, että ei käy. Se tuntui väärältä. Halusin edes yrittää kohtausta, koska helpoin osuus ohjaajille on leikata kohtaus pois. Halusin vain päästä sanomaan sen, sillä se on yksi suosikkirepliikeistäni", Asbæk kertoi. Hän sai tahtonsa läpi, ja kohtauksesta tulikin vaikuttava.
Tulevaisuuden näkymät
Game of Thronesin kuvaukset jatkuvat muutaman viikon päässä Belfastissa, Irlannissa. Asbæk oli silminnähden innoissaan sarjan tulevasta kaudesta. Hän sanoi, ettei tiedä tulevista tapahtumista mitään, mikä sopiikin täydellisesti hänen työskentelytapojensa kanssa.
Muutama kuukausi ennen A Hijacking –elokuvan kuvauksia hän luki erästä kohtausta varten pelkät omat repliikkinsä. Kaikki kohtauksessa tapahtunut tuli sen jälkeen suoraan Asbækin selkärangasta, yllätyksenä. Tämä kertoo paljon miehen näyttelijäntaidoista ja työskentelytavoista.
Pilou Asbækin haastattelu on katsottavissa kokonaan Yle Areenassa.
Teksti: Taru Horsma-aho & Niko Ikonen
Kuvat: Niko Ikonen