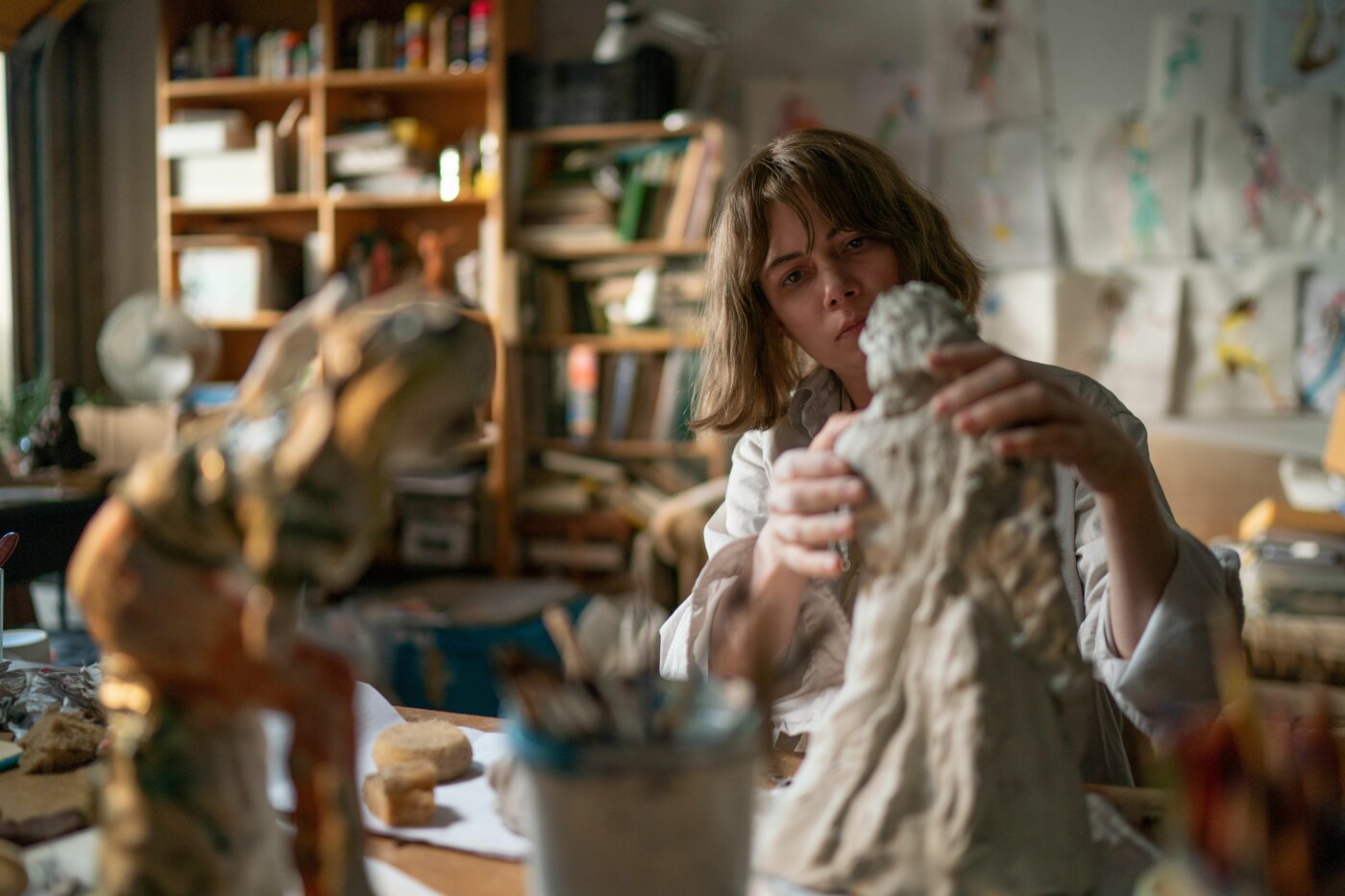 Despite having walked on the Cannes red carpet and working with Hollywood stars, the 59-year-old film director Kelly Reichardt still makes her living as a teacher
Showing Up is director Kelly Reichardt's life's picture in many ways. The master of American slow-paced indie films still works as a teacher alongside her career as a film director.
When Showing Up by Kelly Reichardt competed for awards at the Cannes Film Festival, the movie didn't cause a huge impact amongst the audience. The film premiered as one of the last ones to play at the festival, which often isn't the place for movies winning Palm d´Or and other grand awards. This was again proven true as Ruben Östlund's overly satirical film about capitalism called Triangle of Sadness was the primary topic of conversation at the festival and in the end, won the main prize of Cannes Palm d'Or. Park Chan-Wook's Decision to Leave and David Croneberg's Crimes of the Future were some of the other critics' and audience's favourites at the festival.
Though Showing Up didn't win any prizes at Cannes, Michelle Williams got praise for her acting and overall, nobody could deny Kelly Reichardt's creative talent. After Cannes, the director returned to her home in Portland and continued working.
Xx
Showing Up is a movie that depicts the day-to-day life of a Portland-based sculptor in her forties. Lizzy (Michelle Williams) makes small and fragile human figures. The figures seen in the movie were originally created by the American-Finnish artist Cynthia Lahti. Lizzy is preparing to hold an exhibition at a local gallery but small but unexpected events constantly come in the way.
Her cat needs to be fed. Her brother (John Magaro) struggles with mental health issues. Some of her sculptures break in the oven but the oven operator Eric (André Benjamin) shrugs her off – imperfections are actually an improvement in her works, aren't they?
Lizzy's day job as her mother's (Maryann Plunkett) art academy's receptionist eats away at her time to sculpt. Her apartment doesn't have any warm water but the landlord Jo (Hong Chau) is too busy with their own art exhibition to change the thermostat.
And when Lizzy's cat attacks a bird one night, Lizzy ends up caring for the wounded bird as well.
Showing Up is a comedy about life's small struggles as well as an inventive and funny description about what making art is like for most people. Lizzy is not a genius that's guided by an inspiration larger than life but an ordinary working woman, who struggles with the same things as everyone else does – money, warm water and above all, not having enough time.
As she's struggling, Lizzy watches from the sidelines as one of her artist colleagues has once again made an artistic breakthrough. Making art is also competitive, even unintentionally.
Showing Up is Reichardt's eight full-length film. It is also a reflection of her, even if the director hasn't explicitly said so.
Xx
Kelly Reichardt's career as an artist and as a director is characterised by self-reliance, meagreness and never ending struggle. She paid the violins needed for her first movie River of Grass (1994) with her credit card. Despite receiving praise at the Sundance film festival, Reichardt and her film, which was inspired by the likes of Terrence Malick and Jean-Luc Godard, did not receive additional funding after the premiere.
The next years in the director's career were spent paying off her credit card bills and trying to get new projects into production, which was difficult for her as a female director in a male-dominated field. She worked on a project for Jodie Foster's production company in Los Angeles for some time but after that fell apart, she returned to the east coast. At the same time, male directors such as Tarantino, Haynes and Soderberg rose into fame as a new wave of American indie films became popular.
In 2006 Reichardt was able to produce her second full-length movie Old Joy thanks to a 30 000 dollar inheritance from her aunt. In this tender road film, two childhood friends (Daniel London and Will Oldham) trek to a hot spring together, stay the night, talk and go back to their lives. Movie critic Roger Ebert has said that trying to explain the plot of Old Joy is similar to trying to explain the plot of Late Spring (1949) by Yasujiro Ozu or the album In a Silent Way by Miles Davids (1969).
"As they say about jazz, it's just as much about those notes you don't play as about those you do."
One of the producers for Old Joy was Todd Haynes who is known for his arthouse cinema, such as Safe (1995), Velvet Goldmine (1998) and Far Away from Heaven (2002). After seeing River of Grass, Haynes decided to employ Reichardt as a part of the set design team for his debut film Poison. Haynes has worked as a producer in five of Reichardt's films.
—
Even if River of Grass felt like an imitation at times, Reichardt truly found her own style in Old Joy. Often her movies that are set in the northwestern part of the US don't have any big plot points. This can be seen in Wendy and Lucy (2008) in which a homeless woman loses her dog, in Meek's Cutoff (2010) in which a caravan gets lost in the desert or in First Cow (2019) in which two men start a donut business in 1920s Oregon. Though these plots might seem simplistic at a first glance, the overall themes often play a huge part in Reichardt's films. Wendy and Lucy touches on the importance and the lack of safety nets in a class-divided society. Meek's Cutoff is a feminist and anticolonial western film and First Cow is about the United State's cruel and violent history, told through a story about commercialism, natural resources and trade.
Another repeating theme in Reichardt's movies is either travelling or wandering, looking for a direction. The main characters in her movies are mostly white Americans, some middle-class, some strongly marginalised. All of Reichardt's movies deal with the relationship people have with nature, their country and its history as well as the characters' relationship with colonialism and capitalism.
Most of Reichardt's movies are based on Jonathan Raymond's scripts or short stories. He has worked as the primary writer for all of her movies except for Meek's Cutoff.
Even though she cannot offer huge paychecks for her actors, big stars from Kristen Stewart to Jesse Eisenberg have expressed a desire to work with her. The director has the ability to sap stars from their screen glamour, as Doreen St. Félix wrote on the New Yorker.
Wendy and Lucy is a product of 300 000 dollars, two weeks of filming with a group of volunteers and the actress Michelle Williams. The movie was filmed mostly outdoors due to the expensive lightning equipment needed for indoor shots. There were no makeup vans nor assistants fetching soy milk lattes. There is no room for selfishness nor ego in Reichardt's shoots.
Williams has said that she's willing to do anything that Reichardt asks of her.
Reichardt's budgets haven't grown with time and she probably won't make a breakthrough like the one most indie directors dream of – a breakthrough that'd land them a place at the Marvel studios or directing for Netflix.
When Showing Up premiered Reichardt said that she had accepted that at Cannes, there were the award-winning movies and the B-sides, which included Showing Up.
Reichardt is doing her own thing and like the main character in Showing Up, she makes her living by working in a completely different field. She teaches film studies at Bard university.
—
Patience is an important virtue for Reichardt. She is often compared to other known directors of slow-paced movies, but her works don't have the same ruthlessness as Béla Tarr's or Andrei Tarkovski's films. A more fitting comparison would be between her works and the works of the masters of slow-paced movies, Robert Bresson and Yasujiro Ozu. In New York Times, journalist A. O. Scott described her as a "neo-neo-realist", in relation to her film Wendy and Lucy.
As Reichardt was preparing a movie based on Maile Meloy's short stories, she ran into an issue as she realised that one of the characters' story was told mainly through flashbacks and through her memories. Time skips or a narrator wouldn't suit the overall style of the movie, so Reichardt had to come up with a different solution. The problem was solved quite simply – we as an audience follow the life of Jamie (Lily Gladstone) patiently and long enough to see the whole story unfold.
As we watch Jamie, we see a scene after scene where she cleans the stables, moves hay, feeds the horses and washes clothes. The same mundane life repeats day after day. Jamie does her work carefully, silently and alone. Her only company is an annoying corgi – you could write a whole book about animals in Reichardt's films.
Reichardt follows the golden principle of showing instead of telling in her movies.
The two men travelling together in Old Joy talk to each other, but what's more important than what's being said is what's left unspoken in their conversations. In First Cow the main characters Cookie (John Magaro) and King Lu (Orion Lee) settle into a life together as they work at King Lu's hut. One chops wood, the other cleans the carpets and takes care of the house. There is no need for words in this unspoken agreement.
The storytelling in Showing Up is more fast-paced than in Old Joy or in Meek's Cutoff. There is more dialogue but often this is simply because Lizzy cannot get a moment alone. As Reichardt herself, Lizzy would prefer working alone in silence but in her hectic life, it is often simply impossible.  
Text: Anton Vanha-Majamaa
This article was originally written by Anton Vanha-Majamaa, a Helsinki-based journalist and non-fiction writer that saw Old Joy in 2010 and simply melted. Nowadays he calls himself the biggest Kelly Reichardt-fan in Finland.
Translated by Susanna Saarioja.