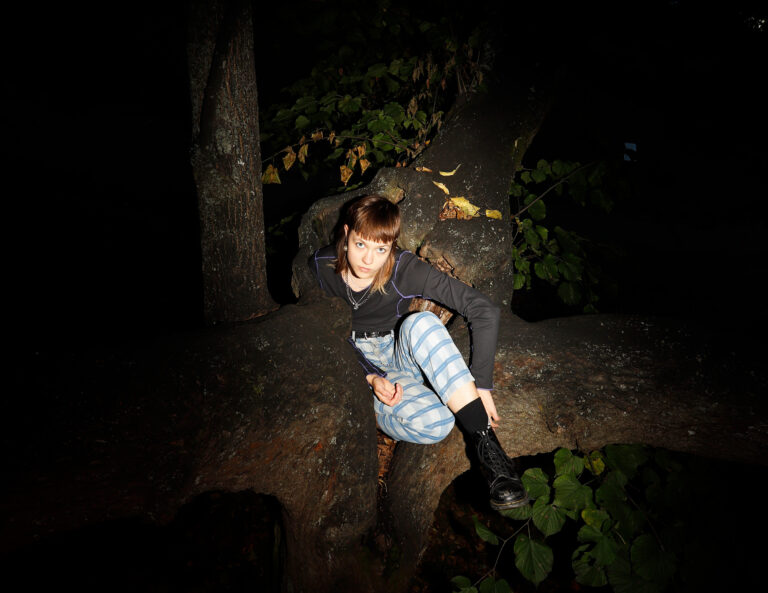 Aino Suni's first feature film Heartbeast will have its Finnish premiere at the Love & Anarchy Festival. We discussed with the lead actor Elsi Sloan about the filmmaking process, gender and activism.
Elsi Sloan answers a video interview from their school's changing room. In the background you can see the blue lockers in the changing room. When asked how they are doing, Sloan replies: 
"Everything is fine. The world is burning, but I'm fine."
We'll come back to the burning world later, but before we do, let's have a little chat about the Heartbeast.
The Heartbeast is director Aino Suni's first feature film. It is also Sloan's film debut. The film begins when 17-year-old Elina moves with her mother to the south of France because of her mother's boyfriend. The move brings with it a new stepsister, Sofia (Carmen Kassovitz). Two very different young people become interested in each other, and soon become obsessed with each other.  
On a queer missionary
Sloan describes the filmmaking process as transformative: "To put it shortly, it changed my whole life." The filming process was also a series of first times. "I've never been abroad for so long. I hadn't seen mountains before. So that is like the starting point."
Sloan also explains that they had never acted in front of a camera before, and had absolutely no actor
identity. "I told Aino [Suni] that this is your fault, I don't take any responsibility for this. I'm coming here to have fun and learn everything I can." 
Sloan also prepared with Suni for the role before leaving for the shoot. Every two weeks they went through the process and procedures of a film shoot, as well as some more unexpected things. 
Sloan grew up as a Mormon and only left the community when they were turning 18. For example, they had never tried smoking or been drunk. So with Suni, they were practicing being believable drunk. "So pretty silly stuff like that."
Missionary work is an integral part of the Mormon youth's coming-of-age process. Sloan playfully notes that the process of filming Heartbeat was their own missionary work. It's an undeniably apt observation. Sloan travelled to a new country, learned a new language, and a larger agenda was present. Perhaps the filming process could be called a queer missionary work?
Playing Elina also opened up ideas about gender for Sloan. The role opened up a space for questioning. The topic of gender was also discussed with Suni. Before filming, Suni and Sloan agreed that Elina is a woman, albeit a woman of her own kind. Towards the end of the filming, however, Sloan realised that they themself were non-binary. 
At the same time, it began to feel that the character of Elina no longer fit within the binary boundaries of gender. In the final moments, Suni and Sloan tried to cut the extra girl references from the script. However, the French language itself places the character in a binary box: elle. Sloan wants to stress, however, that the character is not actually written as a non-binary character. However, they have agreed that for Elsi, Elina can be a non-binary character. 
The character of Elina became close and important to Sloan during the filming process. "She does terrible things, but she doesn't do them because she's queer. I think Elina is the kind of person that she is. But maybe she doesn't quite know herself, or she has a lot of room for that kind of chaotic energy." Sloan says they recognise the same energy in themself. "Elina taught me a lot, and she's like a layer of me now."
Heartbeast is a story about the need to be seen and the destructive consequences of obsessive infatuation. Elina's actions may seem irrational and cruel at times, but at the same time the viewer can also identify with the desperate behaviour of the infatuated. Sloan also says that they can identify with the chaotic energy that emanates from Elina. "Every time when you are like: Elina just don't do it, and then she does it. It's really satisfying at the same time. I've sometimes been obsessively in love like that myself. Maybe everyone has the potential to do something bad. And there's Sofia too, but I don't think Elina is any more of a monster than Sofia is. Things are not black and white and anything can happen."
Sloan saw the film for the first time at the world premiere in Gothenburg. The experience was also a shocking one, they say. While making the film, Sloan says they were completely on Elina's side. They only realised the harshness of the film after seeing it in its entirety in the premiere audience. "I was crying my eyes out and I walked on stage like a panda."
Although Sloan had not acted in front of the camera before, they are used to performing as a musician. Their debut album will be released in February next year. The centrepiece of Heartbeast is a song performed by Sloan, which Elina dedicates to her admired Sofia. The film's soundtrack is composed by JB Dunckel of the world-famous Air, while the theme song was composed and lyricised by Chilla, a rap artist who is booming in France. Sloan says that they have also used music to confess their feelings: "I've done it several times where I've had someone who's kind of struck me, and then I've made a song about them and played them the song." 
City dreams
A little more about the burning world. Sloan is also actively involved in Elokapina [Extinction Rebellion Finland]. The decision to get involved came during the filming of Heartbeast. At the end of the filming, Sloan had heard that their friend had been pepper-sprayed by the police at an Elokapina action. As they returned to Finland, Sloan was already attending civil disobedience training. 
They also share an apartment with three other elokapina members. "I use the tools I get from school here for activism, too. [- – -] I claim that Elina would be with Elokapina. She should first learn a bit of non-violent communication and quite a few other things, maybe go to therapy."
For Sloan, making art and activism are the same thing. "I'm not interested in artivism directly, but I am interested in using artistic tools in direct civil disobedience."  Sloan is a second-year student in the Theatre Studies degree programme at the University of Tampere. They say that they have been critically reflecting on their choice to study acting. However, they have come to terms with their choice. "The rest of my life will be framed by the climate crisis, and I will never escape it. You can't deal with it 24/7, or you'll go crazy. So I'd rather do it in such a way that I use my strengths in specific contexts and with people with whom it's safe, and I know that we're doing something that really makes sense, that it's not just a matter of reading a laundry list, that our actions are genuinely aimed at changing the system, and then I can do it better."
After leaving the religious movement, Sloan says they began to question the deeper nature of social reality. 
"I kind of think that the world is just made up of contracts. Being queer makes me think all the time that these structures are not for me, that there's no toilet for me. This is a really artificial system. Then, with elokapina, my relationship to the laws has changed. If it's invented that way, then I can create my own way of being and create art from that way of being. Or if I make music about my life but I live a political life, then it's political music. So I don't have to make political music separately."
Sloan says they have started to dream of setting up a new city with a couple of friends.
Finally, it would be interesting to hear what Sloan is dreaming about at the moment. The answer comes quickly: "The post-capitalist era." Sloan also says he hopes the Mormon Church wouldn't hurt its queer members with its doctrines. "No love is vain, wrong or evil."
Sloan says they have started to dream of setting up a new city with a couple of friends. "A city because of the people that flow through it and the many microcosms and ways of being. You get a hint of the old empty cities."
Heartbeast at Love & Anarchy on 23 September and in cinemas on 4 November.
The picture of Elsi: Lauri Karo