The dialogue and visuals of a film tell viewers what the characters are thinking and doing. Music tells them what they're feeling.  Human senses work both together and separately to help us observe the world around us. Cognitive functions must work together so those observations can be interpreted and be meaningful. The value of the senses can't be underestimated. They're how people learn to make associations, even subconscious ones, especially through their hearing. Even though film is primarily a visual medium, there's another powerful creative tool beyond harnessing the sense of sight to capture a viewer's attention: music.
The original purpose for music was to cover the whir of the projector and other technical shortcomings, as well as to bring depth and life to the story of silent films that lacked dialogue. With the development of motion picture and sound technology, the importance of music emerged as an individual component of cinematic narrative. The film industry took a giant leap forward in the 1950s and 60s when popular music began to be used alongside orchestral scores, especially to attract younger audiences. Music has come a long way from being a filler as it's developed into one of the most important artistic, as well as most profitable, parts of the industry. Just think of the James Bond theme songs performed by stars that often, if not always, end up topping the charts.
Music in film gets viewers to think and feel what they see more deeply.
The role of music in film now isn't just to accompany what's happening visually. Music supports the story, but beyond that, it has something of its own to say. It suggests and provides interpretations, and helps convey theme, atmosphere and aesthetics. It provides an explanation for things that images, special effects, dialogue and acting can't say. Music in film gets viewers to think and feel what they see more deeply. Combining subtle visual cues and sparse dialogue with revealing music is a meaningful way to tell the viewer a story, since the message might be unclear without the music. Music situates the viewer squarely within the temporary reality of the film and guides them to the interpretation intended by scripted and visual choices. It's important to remember though that the lion's share of research has focused on the experience of Western audiences. Even though music has its place in every culture, its function and significance can vary from place to place. This means any music chosen won't be received in the same way everywhere, and filmmakers must keep their target audience in mind when selecting music.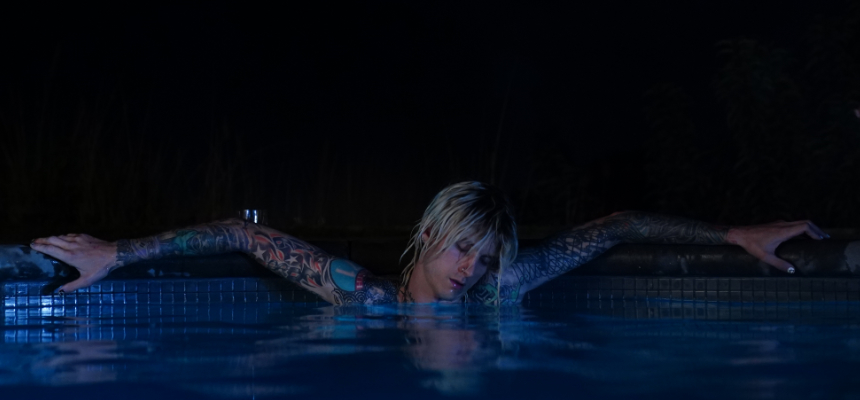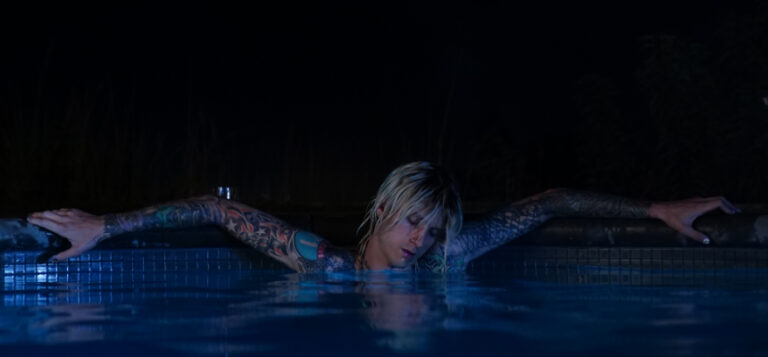 mainstream sellout
There's nothing random about successful music choices. Productions pay for a music supervisor, who builds a soundtrack of songs and score that make up the preliminary music of the film. In addition to instrumental music, the film industry makes use of artists from popular music to create a soundscape. Thom Yorke's spectacular score for Luca Guadagnino's 2018 remake of  Dario Argenton's 1977 horror film Suspiria is a recent example, as well as the same director's 2017 Call Me By Your Name, with original songs "Mystery of Love" and "Visions of Gideon" by Sufjan Stevens rising to the top of his most streamed songs on Spotify. 
A distorted guitar rings out and cut to the rocker hanging half out of a car window. Is he in the right place now?
Tim Sutton's directorial work Taurus (2022), which can be seen in the Love & Anarchy program, also wields the impact of a well-known artist's original music, playing selections from Linda Cohen alongside songs from Machine Gun Kelly. Taurus goes a step further, as the musician plays the lead role of the film in addition to being one of its producers. Machine Gun Kelly, real name Colson Baker, plays Cole, a character grappling with substance abuse and creative block while living large in Los Angeles set to a juicy soundtrack that mixes the rapper's own music with Fat White Family's indie rock from London and 1960's doo-wop from The Untouchables. The artist chases after joy from crystals and a companion reminiscent of his ex-wife, and his difficulties in the creative process parallel his personal struggles.
From fruitless studio sessions to a mansion filled with drugs, alcohol, and disorderly conduct, the rock star role is shown as problematic for the one who bears it. The camera follows the intoxicated star to an elegant restaurant, where the brand ambassadors praise Cole for his irreverent brand of cool. Classical piano plays in the background of the sales pitch as Cole forgets his manners and slams whiskey. He doesn't belong here. The businessman asks if he knew Sam Cooke was a whiskey man. Cole starts flirting with one of the famous soul artist's songs, "Lost and Lookin'," until he throws his glass to the table. A distorted guitar rings out and cut to the rocker hanging half out of a car window. Is he in the right place now?
Music is a film's calling card
Music undoubtedly plays a crucial role in the art of cinema. It can make a good movie great. A film's music is a commentary. It reinforces social, cultural, and regional cues, manipulates the passage of time, points to character development and creates bridges in the plot. The latter makes use of, among others, leitmotifs: characters, situations or places are given a thematic musical identity that helps to connect different plot points. For example, Wim Wenders's Paris, Texas (1984), in which Ry Cooder's wonderful Western-style score skillfully builds a sense of time and place through a recognizable sound world guiding the story.
– the viewer focuses on more subtle elements: a look, skin touching skin, the rush of a hot air balloon inflating, the pop of a toe during a massage.
The purpose of film music is also to create contrast, and what could create more contrast than using no music at all? This fall, Love & Anarchy will show Vietnamese director Lê Bảo's first feature-length film, Taste (2021), which makes conservative use of both dialogue and music. With little dialogue and few other verbal cues— about seven and a half minutes of the film's total 97, to be precise—the viewer focuses on more subtle elements: a look, skin touching skin, the rush of a hot air balloon inflating, the pop of a toe during a massage. In the film, a Nigerian soccer player and four Vietnamese women live in an ascetic house in Ho Chi Minh City. The rituals of co-inhabitation boil down to animalistic behavior, and in silence, life appears to be a series of soulless acts without any search for meaning. The only music heard comes an hour in. They wail out of tune to karaoke about the end of love, giving up without mourning. It's like singing in a foreign language without understanding the meaning of the words. Love is as laconic as anything else in the new life of the movie's five characters. It's almost impossible for the viewer to make any emotional connections to what's happening visually. The soul is gone and all that's left is rote movement. Scenes show what the characters are doing, but it's not clear why they're doing it.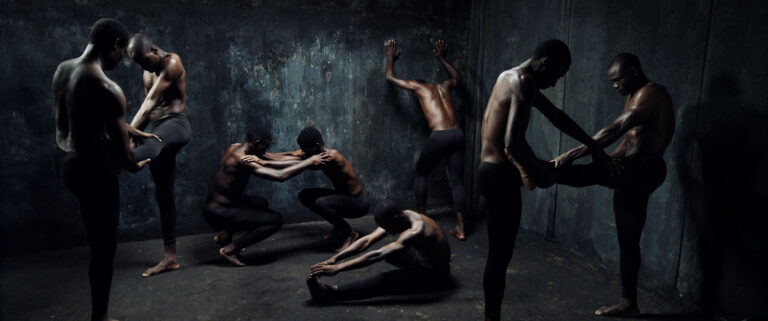 Music serves a film by allowing the viewer into a character's feelings. The feelings suggested visually and verbally are confirmed through music, guiding interpretation in a certain direction. And getting the viewer to feel it themselves. Music is an alternative to dialogue, and can even be a superior way of explaining events at times. French Canadian writer-director Xavier Dolan made broad use of music as a medium for emotions and thoughts in Heartbeats (L&A 2010). Dalida's fateful tune plays when Marie (Monia Chokri) and Francis (Dolan) stumble into a love triangle tinged with jealousy and competition threatens the spirit of friendship. Bang Bang. House of Pain's "Jump Around" mocks the friends' attempts to impress their shared object of desire, Nicolas (Niels Schneider). Nicolas mentions a love for Audrey Hepburn, so Francis buys a poster of the actress, while Marie casually drops Breakfast at Tiffany's into conversation. Whatever Nicolas does, the friends jump to that beat. At a birthday party, the rivals mock each other for the reasons they haven't risen to the same level of cool as their crush, thus receiving his undivided attention. In the spirit of 2010s hipster culture, The Knife's "Pass This On" plays as flashing lights jump between images of Nicolas and the statue of a Greek god. It sums up everything that Marie and Francis lack. The Swedish electronic duo fully succeed at shining a light on the friends' insecurities and shame they feel about the unrequited love.
Music's power lies in its ability to stimulate the brain in different areas and induce physiological reactions, like palpitations, sweaty palms and tears. Music played at certain volumes makes it difficult for the body and the brain to detach from these sensations, which creates the corresponding feelings. Music also affects perception of mood, which filmmakers manipulate with tempo, melody, chord progression and key. A genuine emotional experience only comes from physiological reactions to music that bring real life memories and associations the experience can be interpreted through. Auditory experiences teach the brain to connect plot points and feelings with what's heard. Once again, leitmotifs can be used to carry the viewer through the story and its emotional interior. In terms of music and feelings, this sound creates a desired emotional reaction whenever it's repeated. Because of the emotional response to the movie, it may be impossible in the future for the viewer to separate the song from the scene and the emotional reaction it evokes. Good film music keeps playing in your head, sticks with us, and brings new life to the things that happen. Nostalgia is also more than a pawn to play. Like Machine Gun Kelly's character Cole says:   "Music is like a bookmark. You can always turn back and remember that chapter when you hear a certain thing that triggers it."
Text: Maisa Lampinen
Maisa Lampinen is a Helsinki-based sociologist, writer and stylist. Maisa explores the themes of her work intuitively, permeated by emotion and empathy. She understands the world through stories and hopes that her stories will help others to realise something of their own reality. Translation: Hanna Hurme