Rocks opens the viewer a story of a teenage girl where sudden maturation, conflicts and responsibility intertwine in a brutally realistic way. The film's best gift lies, however, in its way to portray girlhood and the sincere friendship between girls.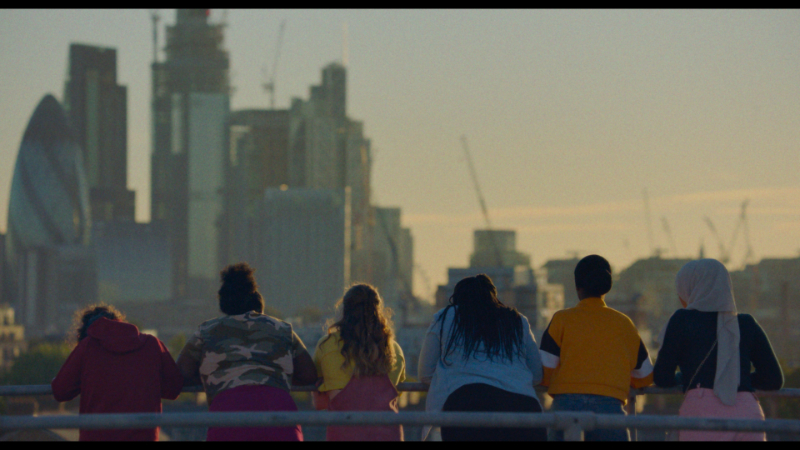 Sarah Gavron's direction Rocks tells about a London teenage girl Rox (Bukky Bakray) who is suddenly abandoned by her mother suffering from mental disorders. As a result, Rox is forced to take responsibility of her little brother on her own and is afraid that if social workers get wind of the situation, the siblings would be forced apart. This leads to an eventful journey of growing up where loneliness and hope go round in circles. In every moment of light, there is one common element: Rox's friends.
The world that the group of friends, formed solely by girls, is outlined to the viewer from the first minutes of the film. Girls have a magical ability to find pure joy in the little moments of everyday life, and perhaps especially in dark situations. Bringing pure joy amidst pain and suffering is difficult, but trust is conveyed in every moment. The joy created by the girls combines on multiple levels to loyalty and the ability to give the kind of help the other one needs but doesn't necessarily want. The film boils down to the quote in a paper clipping hanging on Rox's wall: "Real Queens Fix Each Other's Crowns".
The friendship between girls is exactly about this fixing of the crowns. It is about love and laughter, humour and growing up together. It is unfortunate that this kind of girlhood is brought up on the big screen very rarely even though it is easy to name multiple films about the uncomplicated friendship between boys.
For some incomprehensive reason, the stories about girls are on a low-threshold basis mixed with romance, competition, and jealousy. In that case, the story is unnoticed shaped into a story about betrayal and not about the friendship between girls or the growing up that is involved. Alternatively, the nature of the story is easily turned into a love story where a male character is the major agent in the storyline. It is time to abandon this misleading set-up. Girls also deserve to see in films the kind of power that they possess.
Like languages, films not only represent but also shape reality. It is far from meaningless to speak about the relationships between girls. A correct representation can at its best decrease the feelings of loneliness and help individuals to embellish their own stories with positivity.
Rocks – and other beautiful and realistic depictions of girlhood – promote the idea that girls are not rivals to each other. As in real life, in Rocks, the girls offer each other an open embrace after humane slip-ups, and each get-together is in its own way a return home. Friendship softens the edges of tragedy and brings a spark of hope to the darkest of moments. At the same time, all this is marked by a skilfully formed lightness and an enormously great love.
Text: Carita Lehti
Translation from Finnish: Suvi Pehkonen
Carita Lehti is a professional of Finnish language and a freelance writer who gets particularly excited about feminism and correct punctuation.
Films from this theme: